This document describes several use case scenarios of how MSRP relay functionality may be deployed in the field. The implementation that is under development should eventually be able to support each of these scenarios. For each of these scenarios there are diagrams indicating the flow of traffic between the different components. All diagrams on this page are also downloadable as PDF.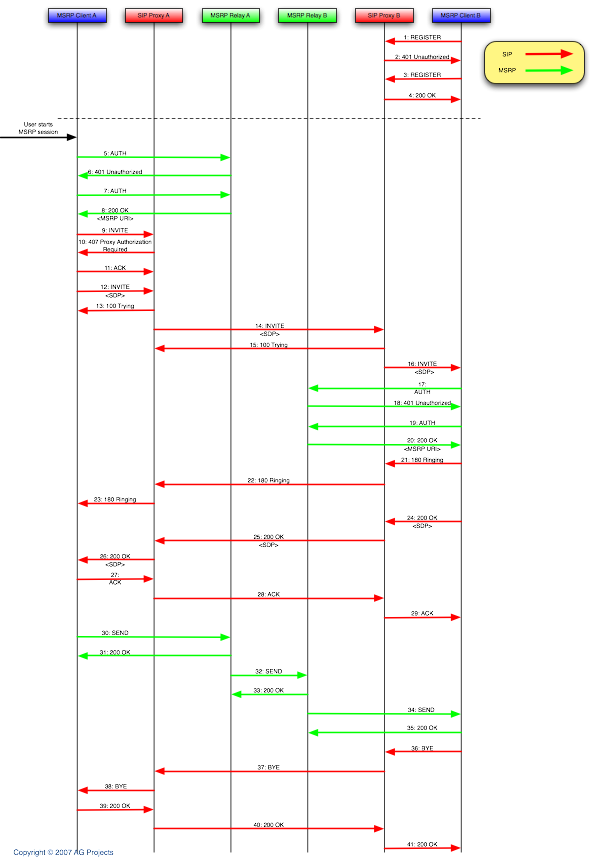 The image above is a time-sequence diagram that describes the typical flow of messages when using a MSRP relay, including both SIP and MSRP traffic.
The example described is a MSRP session between two endpoints that are behind NAT, each using its own SIP proxy and MSRP relay. When the endpoints are switched on they will each register with their SIP proxy so that the proxies know where the endpoint can be reached and NAT can be traversed. When endpoint A wishes to start a MSRP conversation with endpoint B, it will first authenticate itself at MSRP relay A, which will give the endpoint a new session identifier included in a MSRP URI. Note that endpoint A does not strictly need to use its MSRP relay in order to traverse NAT, as it will be the one initiating the MSRP TCP connection, but it may choose to do so for other reasons. Once the endpoint has obtained the session identifier, it will include the URI of MSRP relay A in the MSRP SDP description of the initial SIP INVITE message, which it will send through its SIP proxy. This starts the regular SIP invite handshake, which will eventually reach endpoint B. Before accepting the session, endpoint B needs to obtain a session identifier from its own MSRP relay B, which it does by authenticating itself with the AUTH method. It the includes the returned MSRP URI in the SIP OK response, so that endpoint A knows which path the MSRP messages need to follow. It can then send MSRP messages through the SEND method and by including this path in the To-Path header. Messages from endpoint B to endpoint A will use the reverse path. In this example endpoint B closes the MSRP session by sending a SIP BYE message.